Throughout history, women have been working hard to ensure that the female brand is recognized for the strength it truly possesses. A lot of women have gone the extra mile to break barriers in several ways.
Regardless of age, race, or nationality, strong women inspire millions of girls and women. By working with purpose and confidence, they demonstrate that having strength and tenacity doesn't mean sacrificing your vulnerability. And all of these women show that being a woman shouldn't be an obstacle to achieving your goals and aspirations.
Also, there are days when young girls and women who are aspiring to actualize their dreams in life sometimes need a little added inspiration; that little push, that extra encouragement that "I can do it".
So today, in honor of all the strong women who have dared to carve a niche for themselves despite all odds, we have put together a list of 34 inspirational quotes from some exceptional and successful ladies across the world that will hopefully bring you inspiration and empowerment.
The words of these strong women as prove that through action, anything is possible.
1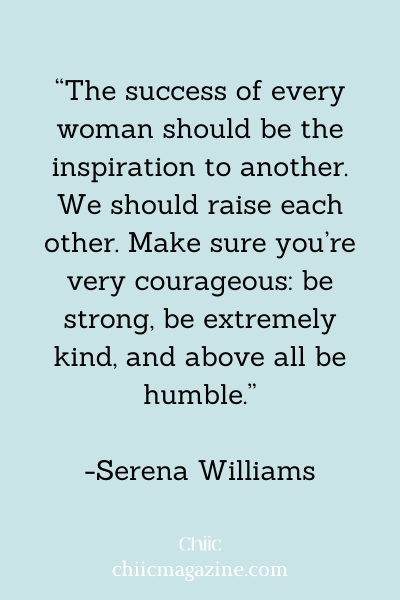 "The success of every woman should be the inspiration to another. We should raise each other. Make sure you're very courageous: be strong, be extremely kind, and above all be humble."
-Serena Williams
2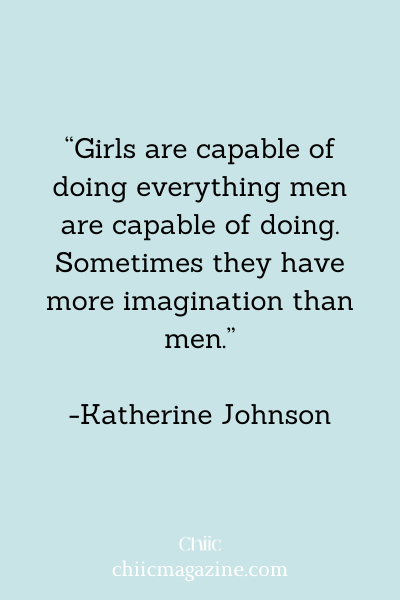 "Girls are capable of doing everything men are capable of doing. Sometimes they have more imagination than men."
-Katherine Johnson
3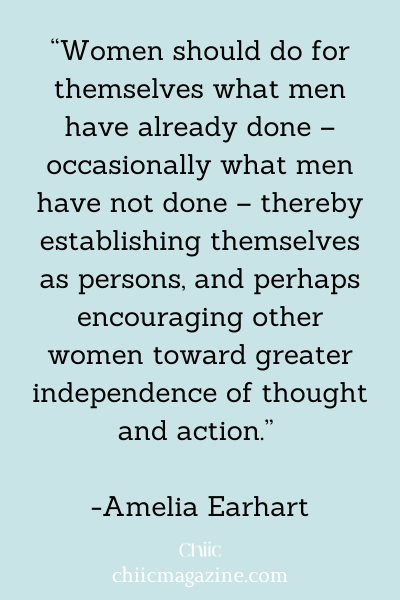 "Women should do for themselves what men have already done – occasionally what men have not done – thereby establishing themselves as persons, and perhaps encouraging other women toward greater independence of thought and action."
-Amelia Earhart
4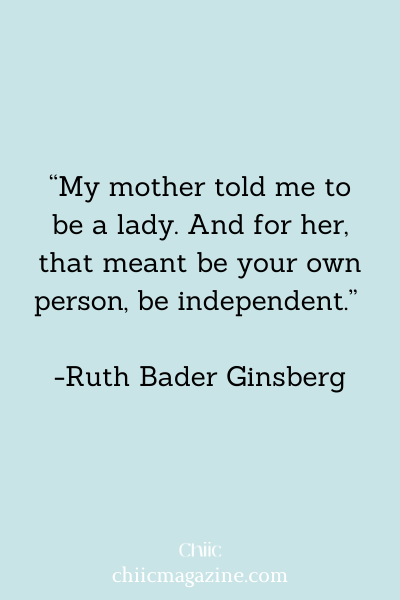 "My mother told me to be a lady. And for her, that meant be your own person, be independent."
-Ruth Bader Ginsberg
5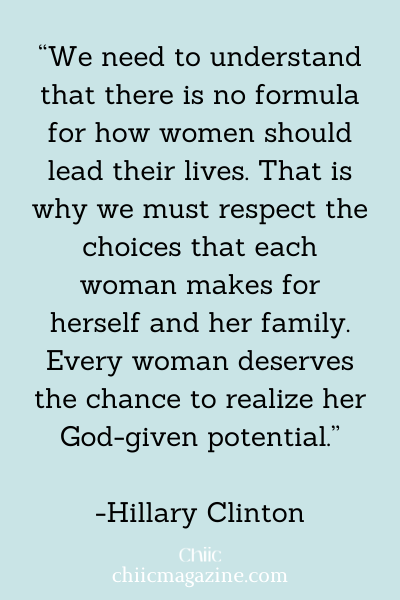 "We need to understand that there is no formula for how women should lead their lives. That is why we must respect the choices that each woman makes for herself and her family. Every woman deserves the chance to realize her God-given potential."
-Hillary Clinton
6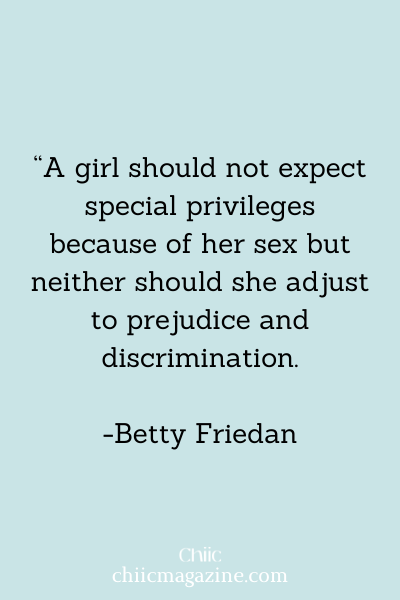 "A girl should not expect special privileges because of her sex but neither should she adjust to prejudice and discrimination."
-Betty Friedan
7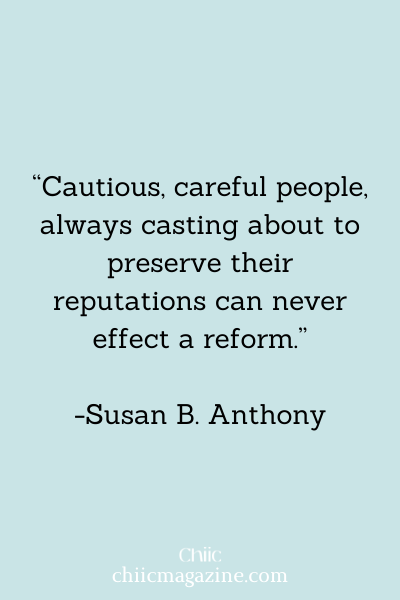 "Cautious, careful people, always casting about to preserve their reputations can never effect a reform."
-Susan B. Anthony
8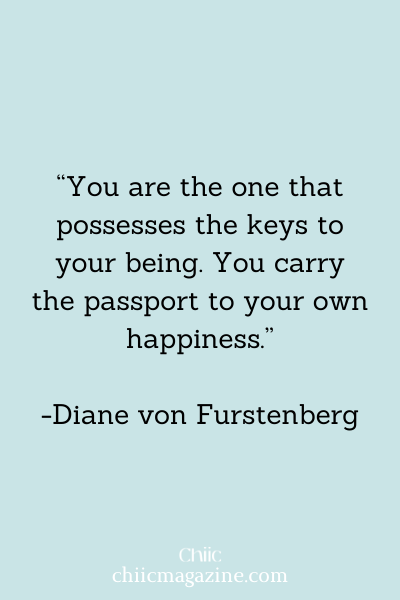 "You are the one that possesses the keys to your being. You carry the passport to your own happiness."
-Diane von Furstenberg
9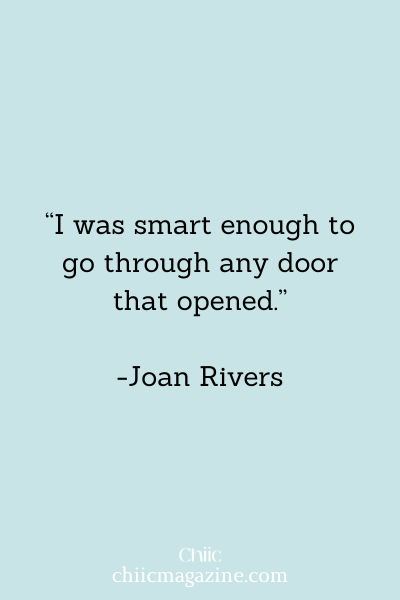 "I was smart enough to go through any door that opened."
-Joan Rivers
10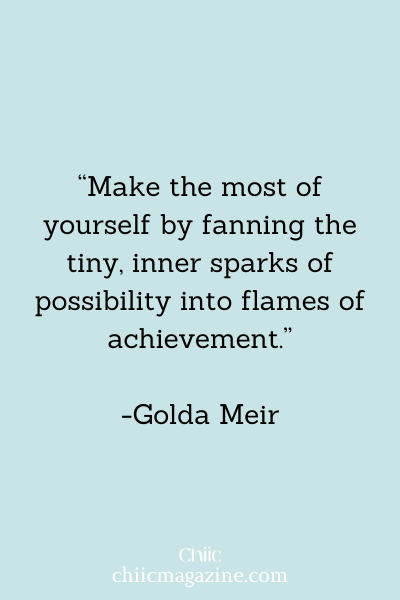 "Make the most of yourself by fanning the tiny, inner sparks of possibility into flames of achievement."
-Golda Meir
11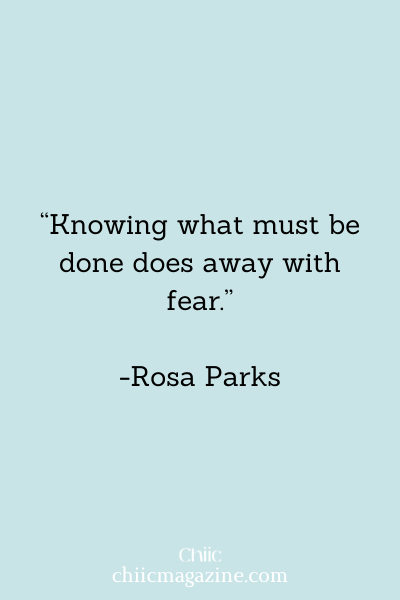 "Knowing what must be done does away with fear."
-Rosa Parks
12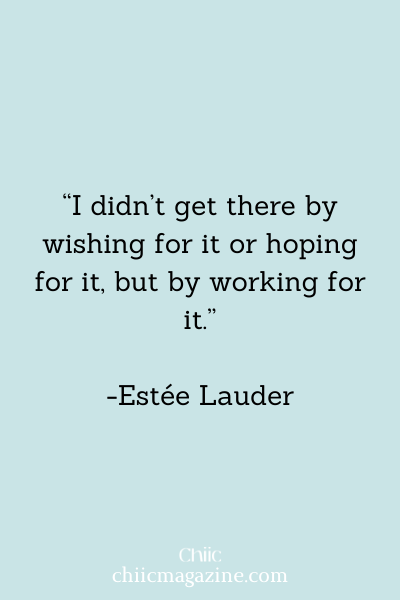 "I didn't get there by wishing for it or hoping for it, but by working for it."
-Estée Lauder
13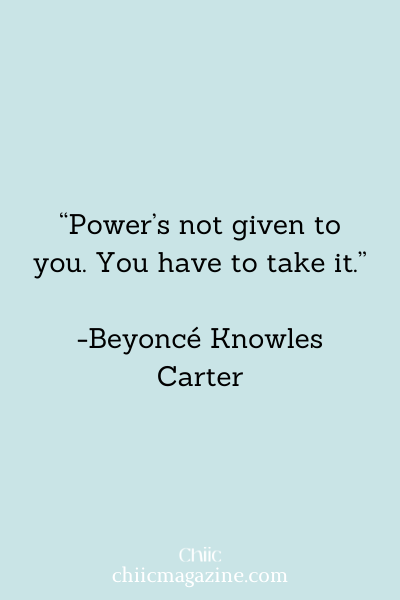 "Power's not given to you. You have to take it."
-Beyoncé Knowles Carter
14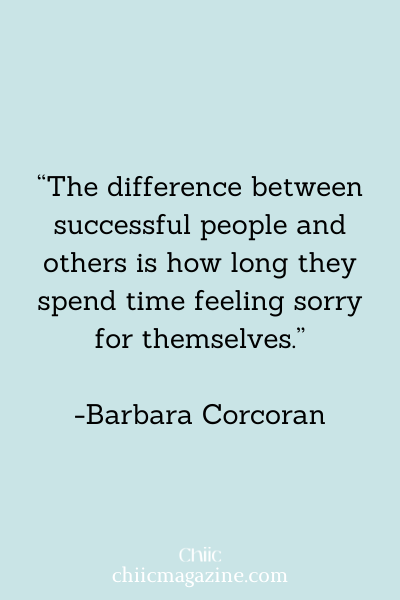 "The difference between successful people and others is how long they spend time feeling sorry for themselves."
-Barbara Corcoran
15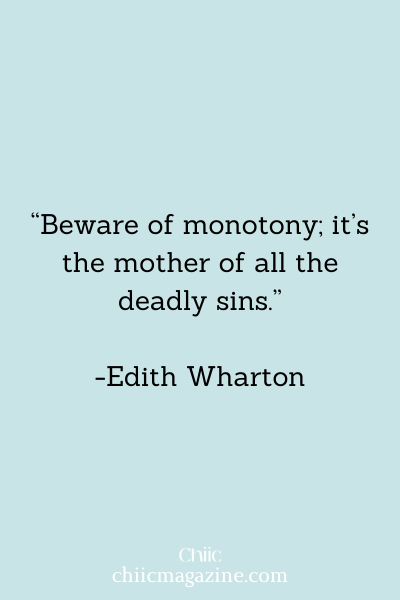 "Beware of monotony; it's the mother of all the deadly sins."
-Edith Wharton
16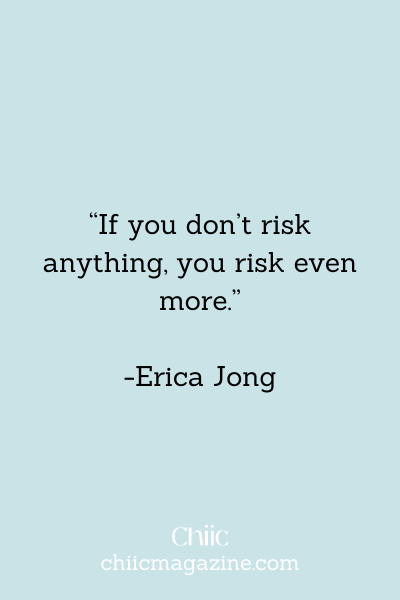 "If you don't risk anything, you risk even more."
-Erica Jong
17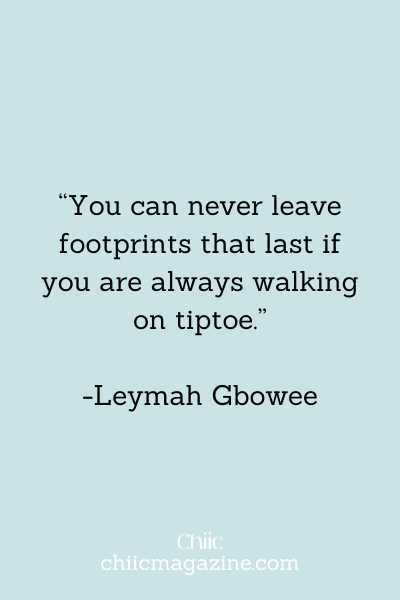 "You can never leave footprints that last if you are always walking on tiptoe."
-Leymah Gbowee
18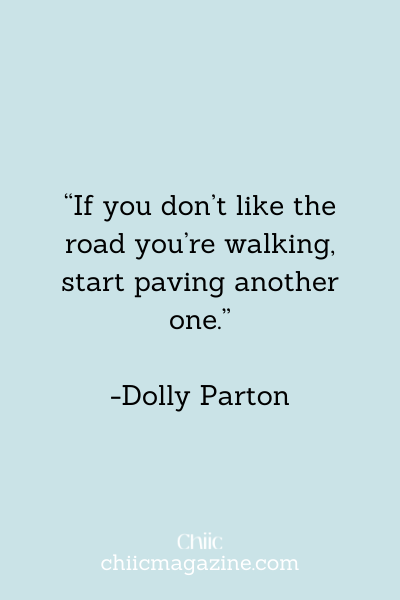 "If you don't like the road you're walking, start paving another one."
-Dolly Parton
19
"The most difficult thing is the decision to act, the rest is merely tenacity."
-Amelia Earhart
20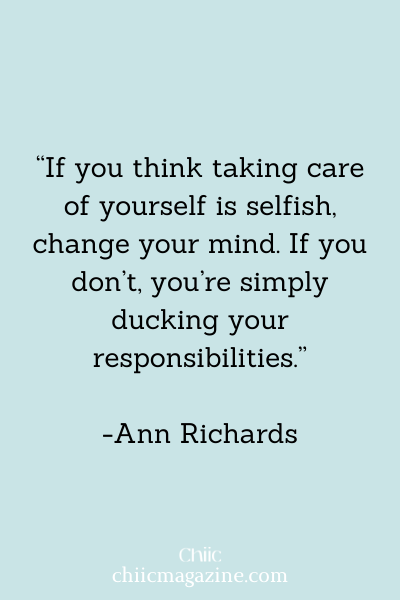 "If you think taking care of yourself is selfish, change your mind. If you don't, you're simply ducking your responsibilities."
-Ann Richards
21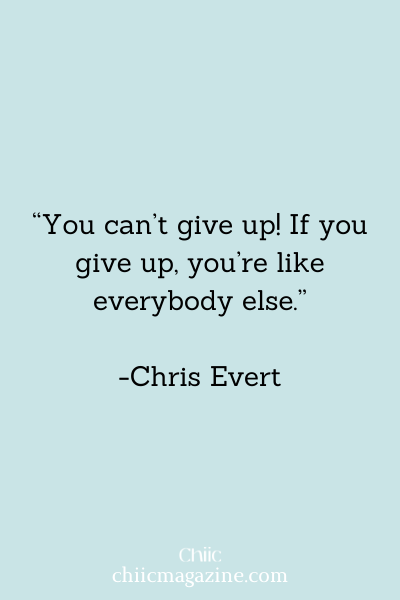 "You can't give up! If you give up, you're like everybody else."
-Chris Evert
22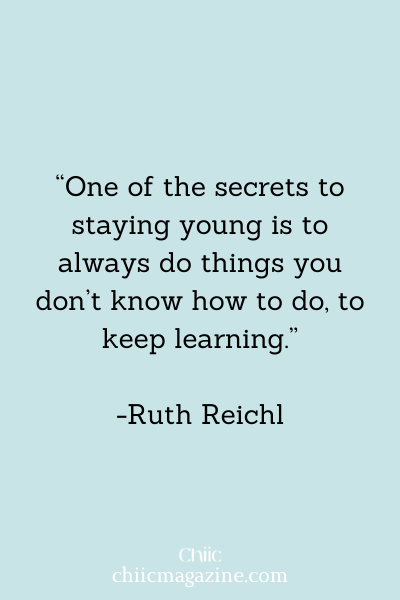 "One of the secrets to staying young is to always do things you don't know how to do, to keep learning."
-Ruth Reichl
23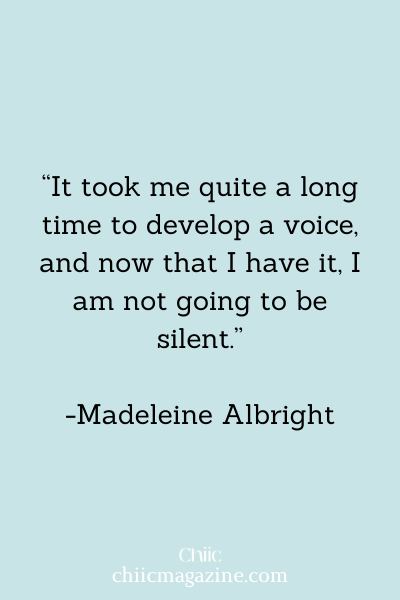 "It took me quite a long time to develop a voice, and now that I have it, I am not going to be silent."
-Madeleine Albright
24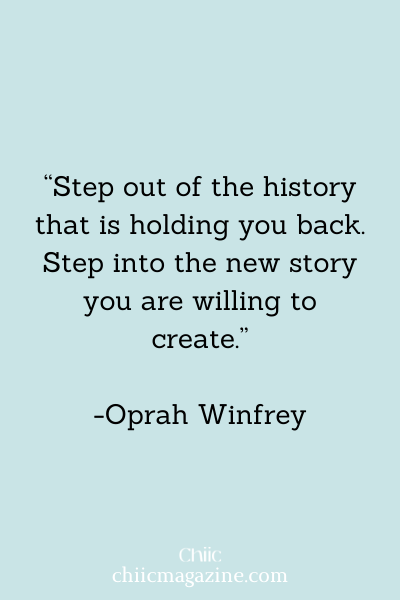 "Step out of the history that is holding you back. Step into the new story you are willing to create."
-Oprah Winfrey
25
"I firmly believe you never should spend your time being the former anything."
-Condoleezza Rice
26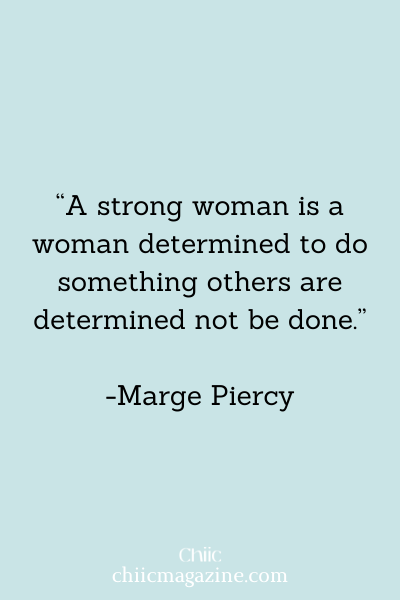 "A strong woman is a woman determined to do something others are determined not be done."
-Marge Piercy
27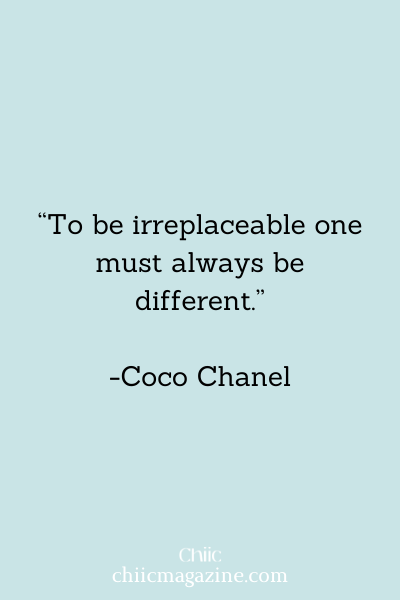 "To be irreplaceable one must always be different."
-Coco Chanel
28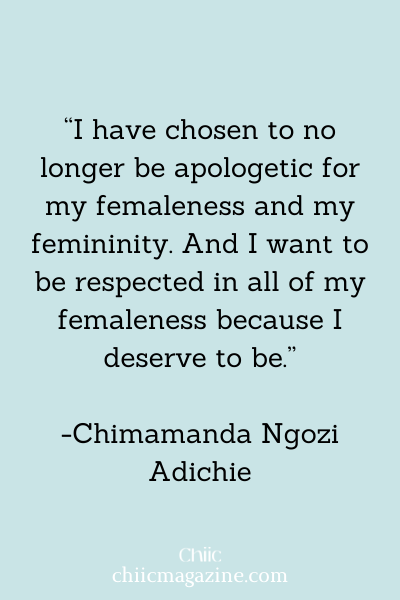 "I have chosen to no longer be apologetic for my femaleness and my femininity. And I want to be respected in all of my femaleness because I deserve to be."
-Chimamanda Ngozi Adichie
29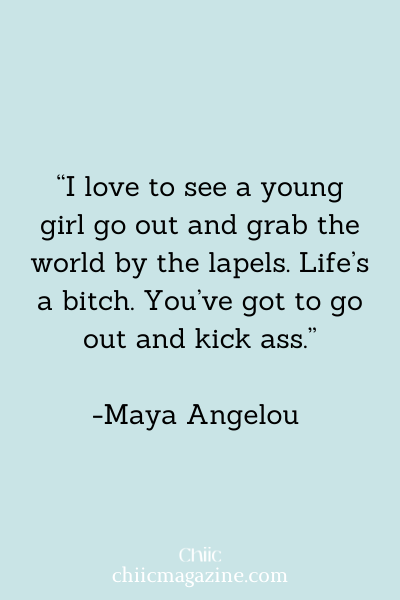 "I love to see a young girl go out and grab the world by the lapels. Life's a bitch. You've got to go out and kick ass."
-Maya Angelou
30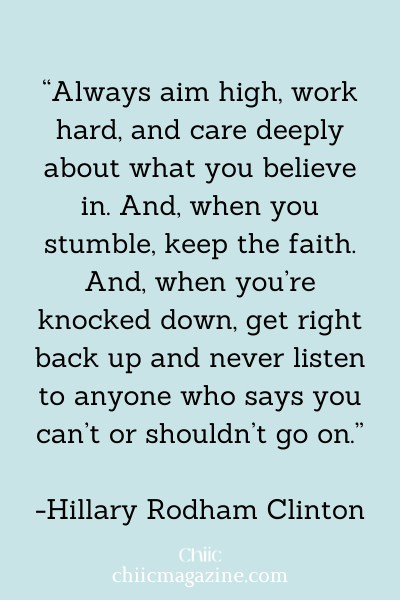 "Always aim high, work hard, and care deeply about what you believe in. And, when you stumble, keep the faith. And, when you're knocked down, get right back up and never listen to anyone who says you can't or shouldn't go on."
-Hillary Rodham Clinton
31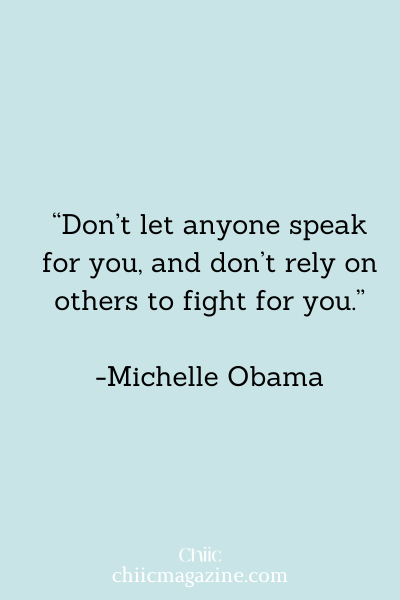 "Don't let anyone speak for you, and don't rely on others to fight for you."
-Michelle Obama
32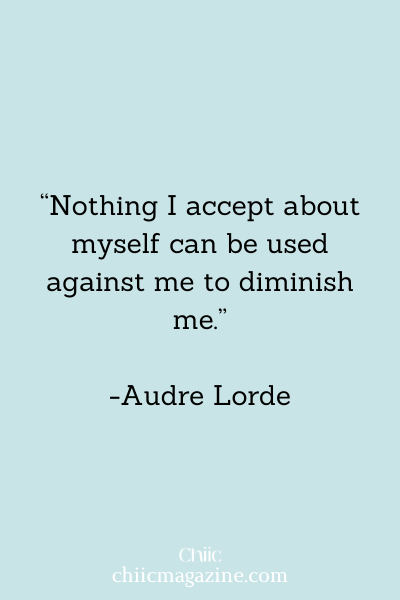 "Nothing I accept about myself can be used against me to diminish me."
-Audre Lorde
33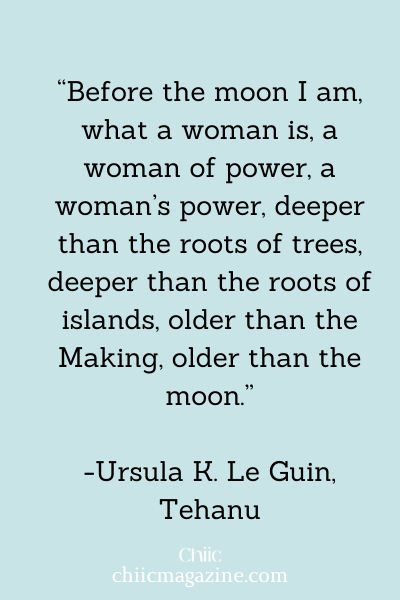 "Before the moon I am, what a woman is, a woman of power, a woman's power, deeper than the roots of trees, deeper than the roots of islands, older than the Making, older than the moon."
-Ursula K. Le Guin, Tehanu
34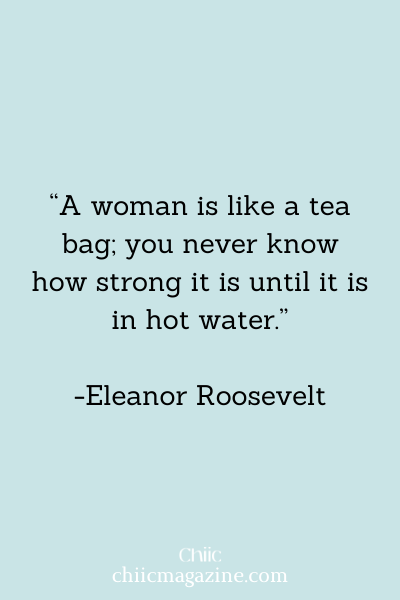 "A woman is like a tea bag; you never know how strong it is until it is in hot water."
-Eleanor Roosevelt