We may earn commission from links on this page, but we only recommend products we love.
Whether you love going to the gym every day or prefer to stay home and work out in your own space, having the right fitness essentials will help you get more from your workout routine. If you're looking to upgrade your current gym bag or maybe just stocking up on new workout items, consider adding these key items to your fitness toolkit. Not only will they help you improve your health and fitness, but they'll also take some of the stress out of your daily routine so you can enjoy being active even more!
1
Gym Essentials For Fitness Lover
No matter what your fitness goals are, having the right gear is essential to working out effectively. And that starts with a good gym bag. The Reebok women's essentials grip bag is perfect for carrying all your essentials to and from the gym. It's roomy enough to fit everything you need, but not so big that it's cumbersome to carry.
2
Gym Essentials For Fitness Lover
For the yoga lover who wants a mat that's chiic, minimalist, and does the job, the Reebok Tech Style Yoga Mat is great. The mat is also lightweight and comes with a carrying strap, making it easy to take on the go. Plus, the textured surface provides excellent grip, even when you start to sweat.
3
Gym Essentials For Fitness Lover
If you're serious about working out, then you need a phone holder that can keep up with you. The VUP Wristband Phone Holder is the perfect solution for active people. It's made of high-quality neoprene and has a 360° rotatable forearm armband, so you can always have your phone within reach. Also, it's comfortable to wear and machine washable.
4
Gym Essentials For Fitness Lover
There's nothing worse than being in the middle of a great workout and having your bands slip or roll. These ihuan Resistance Bands are made with anti-slip and roll technology to keep you focused on your fitness goals, not on readjusting your equipment. They're also great for targeting specific muscle groups, like your booty!
5
Gym Essentials For Fitness Lover
A water bottle is an absolute must-have, especially if you're hitting the gym hard. Staying hydrated is key to a successful workout, and a Polar water bottle will help you do just that. This bottle is made of BPA-free plastic, so you can rest assured that your water is safe to drink.
6
Gym Essentials For Fitness Lover
Allbirds' Women's Wool Dasher is a machine washable running shoe that's shock absorbing with cushioned support. It has a sleek design and is made with sustainable materials, making it a great choice for the eco-conscious fitness lover.
7
Gym Essentials For Fitness Lover
A good pair of leggings are essential for any gym lover. They should be comfortable, breathable, and allow you to move freely. Champion's high waist women's training leggings are a great option for those who want a little extra support around the waist. They're also made with a moisture-wicking fabric that will keep you cool and dry during your workout.
8
Gym Essentials For Fitness Lover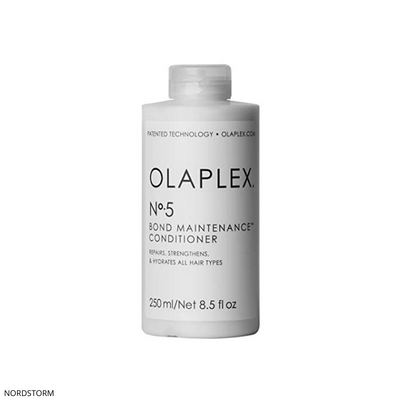 No. 5 Bond Maintenance Conditioner OLAPLEX
If you're a fitness lover, then you know that working out can be tough on your hair. Whether you have long or short hair, it's important to use a conditioner that will help maintain the health of your strands. OLAPLEX Bond Maintenance Conditioner is perfect for those who are looking to keep their hair healthy and strong. This conditioner helps to restore strength and elasticity, while also providing moisture and shine.
9
Gym Essentials For Fitness Lover
These towels absorb sweat and water like magic! The fast drying material is also great for wiping down equipment at the gym and keeping your bag clean too.
10
Gym Essentials For Fitness Lover
Anyone who loves working out will tell you that music is a huge motivational factor when working out. But no one wants to be tethered to their phone or have their headphones constantly falling out. These headphones are weather resistant and have a secure fit, and Bluetooth connectivity so you can move freely while staying connected to your tunes.
11
Gym Essentials For Fitness Lover
Reebok's MYT Printed Sports Bra is one of the top fitness essentials every gym lover needs. This sports bra is comfortable, supportive, and stylish. It's perfect for any type of workout, from running to weightlifting. Plus, the fun prints add a little personality to your gym outfit.
12
Gym Essentials For Fitness Lover
As a fitness lover, you probably already know the importance of tracking your progress and keeping yourself accountable. But what you may not know is that the Fitbit Charge 5 is the best fitness tracker on the market. It has advanced features like GPS tracking, 24/7 heart rate monitoring, and swim proofing that make it perfect for anyone who wants to take their fitness seriously. Plus, it's comfortable to wear, so you'll actually want to keep it on all day long.
13
Gym Essentials For Fitness Lover
Fanny Pack is the perfect option for those who want a stylish and functional fanny pack. It has multiple compartments to store everything you need, plus it's made from durable materials that will withstand even the most intense workouts.
14
Gym Essentials For Fitness Lover
Whether you're a seasoned athlete or just starting your fitness journey, Beats Fit Pro is the perfect wireless earbuds to help you power through your workout. With noise canceling capabilities and a secure, comfortable fit, these earbuds will stay in place no matter how intense your workout gets.
15
Gym Essentials For Fitness Lover
When you're working out, the last thing you want to worry about is whether or not your deodorant is going to hold up. Secret Aluminum-free deodorant is a great option for those who are looking for a natural way to keep their underarms dry and free of odor-causing bacteria.
16
Gym Essentials For Fitness Lover
These cushioned no-show BOMBAS socks will make you feel like you're walking on clouds, and they come in a pack of three so you'll always have a clean pair on hand.