We may earn commission from links on this page, but we only recommend products we love.
T-shirts are the types of clothing that can be termed 'a must-have' in anyone's closet. You can use them at any time and for any occasion, whether you are looking for a low-key vibe or you want to dress them up. They are always comfortable at all times.
The sweetest part is that you can combine them with lovely pants, denim jeans, or skirts. T-shirts may be just simple wardrobe essentials, but you can achieve whatever look you want with a T-shirt. Classy, simple, flamboyant, gorgeous, anyhow you want to look, it is achievable with a T-shirt. It all depends on the type of T-shirt and how you combine it to get that perfect look. In fact, T-shirts are incredibly versatile.
From businesses to sports teams, to parties, casual outings, etc., T-shirts are just awesome and can make a huge fashion statement. You can never have too many T-shirts in your wardrobe. Tees also come in various styles, from baby tees, "tissue" turtlenecks, and varying necklines from crew to boat neck and deep-V.
Of course, due to the many various designs and brands of T-shirts available, there can be confusion as to which styles and brands make the perfect tees. To save you from this confusion, we have compiled several stylish T-shirts from top-notch brands that will boost your fashion lifestyle. Just scroll down to make your choice of selections.
1
Cute T-shirts You Need Right Now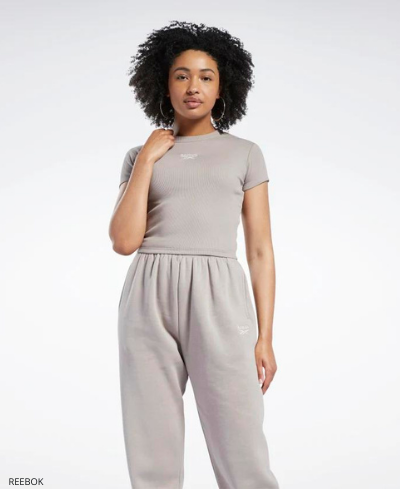 Reebok Women's Classics Ribbed T-Shirt
$30.00
This women's Reebok t-shirt is simple, clean, and classy for whatever the occasion may be. It has a small Vector logo on the chest that flashes heritage style. The outfit, which is made of pure cotton, keeps your look tight with its fitted silhouette.
2
Cute T-shirts You Need Right Now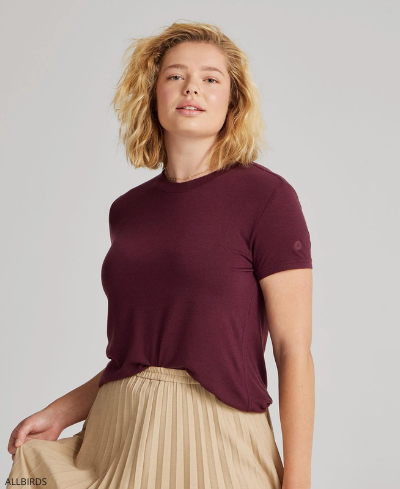 Allbirds Women's Sea Tee, Classic Fit
$48.00
This unique Allbirds round-neck T-shirt blends eucalyptus trees, merino wool, and crab shells for a supernatural fiber that stays soft and reduces odor. The combination of breezy eucalyptus fiber and superfine merino wool provides an unbeatable hand feel and a flattering fit. Elements like contrast-stitched side seams, a ribbed neck trim, and a subtle embroidered logo on the sleeve make it perfect for a relaxed everyday style.
3
Cute T-shirts You Need Right Now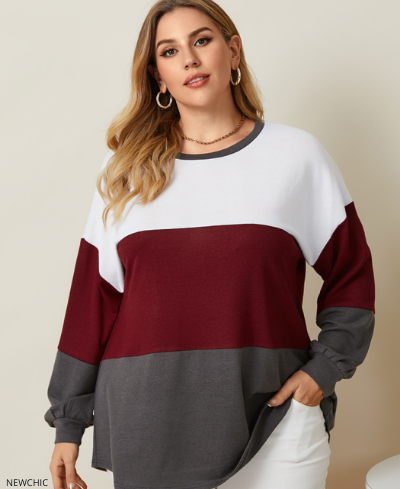 Patchwork O-neck Casual
$13.99
This Newchic ladies T-shirt which comes in Wine-Red color is the most maturely colorful T-shirt you can ever have. It is made of cotton and polyester and is long-sleeved. The patchwork design element makes it very adorable and suitable for any casual occasion.
4
Cute T-shirts You Need Right Now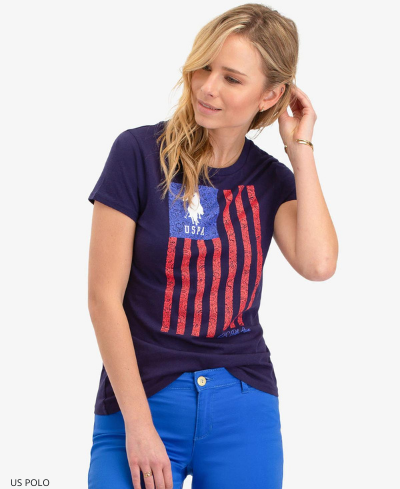 Vertical Flag Graphic T-Shirt
$10.00
This sport polo is designed by the United States Polo Association (USPA). It is very unique, classy, and invokes the sports spirit in you. The polo inspires a way of life characterized by a classic, high-quality style of clothing. The U.S. Polo Assn. the brand speaks to what is authentic about the sport, honors the tradition of polo, and fosters an inclusive environment, where everyone is invited to be a part of this extraordinary sport.
5
Cute T-shirts You Need Right Now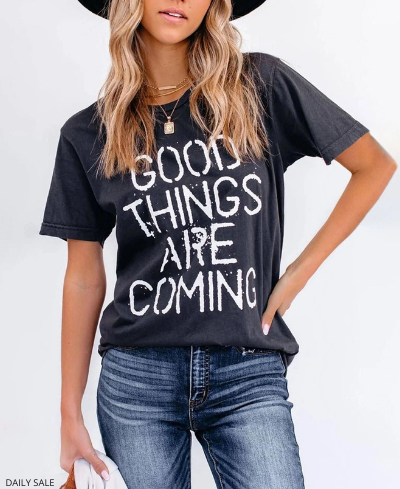 Letters Print Round Neck Short Sleeve Casual
$15.00
Featuring a very solid ash color with letter prints on the front, round neck, and short sleeves, this T-shirt is casual and chic. It is made of 71%-80% Cotton, 20%-29% Spandex. Pair it with your high-waist and canvas shoes to complete the fashion look. The soft fabric keeps you comfortable. Get yourself one no
6
Cute T-shirts You Need Right Now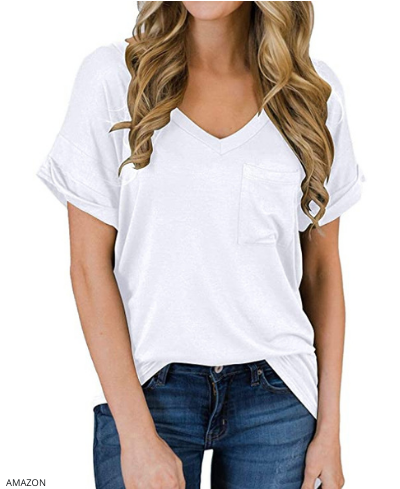 Miholl Women's Cute Puff Sleeve V-Neck Shirts
$9.99
This is a very basic and timeless T-shirt every modern woman needs in her closet. The Mel White Oversize V-Neck Tee features a loose, yet versatile shape, v-neckline, accent pocket, and very soft material of spandex/rayon blend. It is very good for an everyday outfit.
7
Cute T-shirts You Need Right Now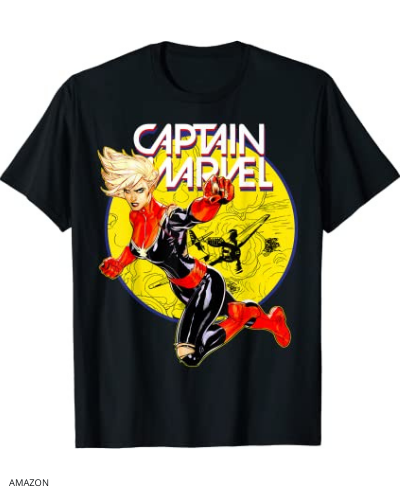 Captain Marvel Hero Graphic T-Shirt
$22.99
It comes in all kinds of aesthetic colors, including staples like heather gray, black, royal blue, lemon, cranberry soft shades of pink, light purple, and mint green; not to mention bold hues of watermelon red, neon yellow, and neon green. Don't you love that? Click to shop one now.
8
Cute T-shirts You Need Right Now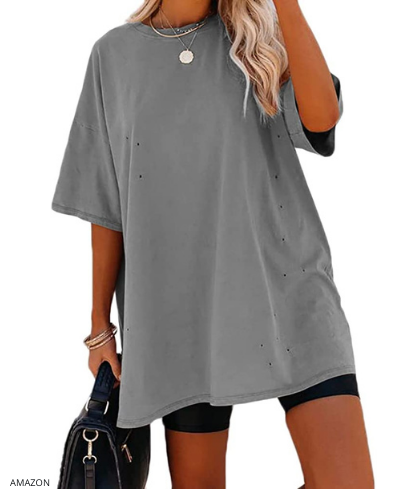 Niubia Women's Oversized Crew Neck Tee
$15.99
If you like oversized Tees, then this is perfect for you. The line sketch depicting a team of five adorns this oversized tee. Combine it with cargo pants and a cap to complete that hipster look. Don't delay further in getting yours.
9
Cute T-shirts You Need Right Now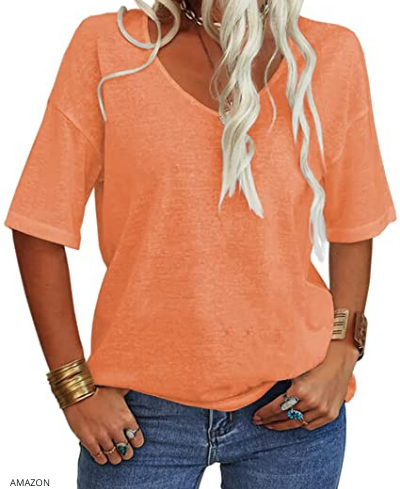 Danedvi Women V-Neck Half Sleeves T Shirt
$15.99
Do you want that brilliant, bold, and youthful look? Or you just want to stay trendy every time with this casual everyday wear T-Shirt? It suits all your needs with its elegant round neck, puff sleeves, and fine & attractive polyester fabric.
10
Cute T-shirts You Need Right Now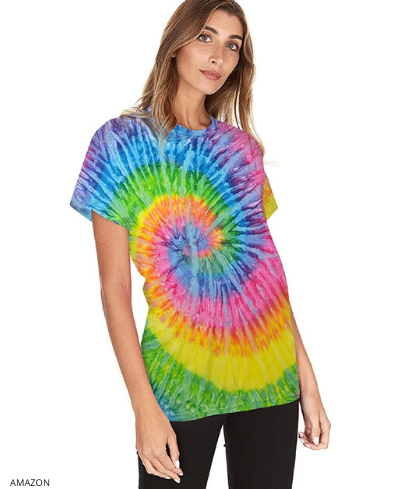 Colorful Tie Dye Tees
$27.00
This is a very colorful unisex tie and dye T-shirt with crewneck majorly for workouts and hangouts. It is made of 100% cotton and hand-dyed. You can always pair it up with your favorite shorts and leggings.
11
Cute T-shirts You Need Right Now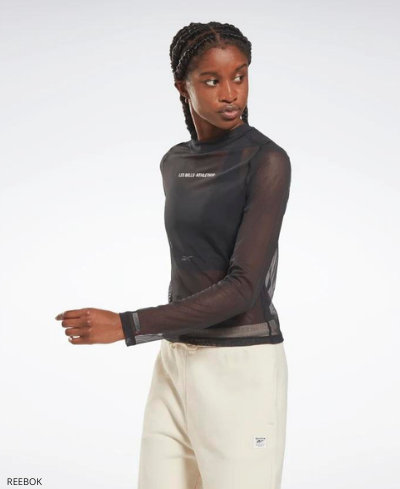 Reebok Lightweight Layering Long Sleeve Shirt
$45.00
Reebok is at it again with another unbeatable product. This women's Reebok t-shirt can be worn to the gym or to run errands. It is very lightweight and made of 93% nylon and 7% elastane mesh. The neck design is a mock-neck and it comes in black color.
12
Cute T-shirts You Need Right Now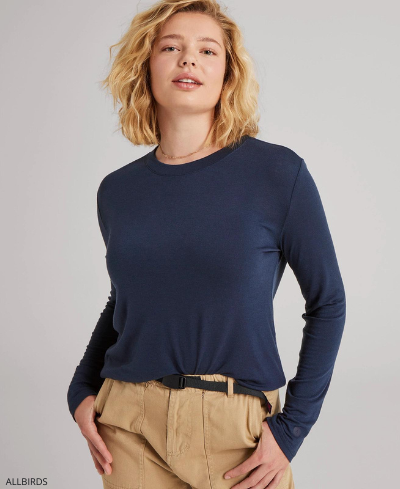 Allbirds Women's Long Sleeve Sea Tee
$58.00
Lady's round neck Tee is soft, breezy, and good for a relaxed everyday style.