We may earn commission from links on this page, but we only recommend products we love.
T-shirts are the types of clothing that can be termed 'a must-have' in anyone's closet. You can use them at any time and for any occasion, whether you are looking for a low-key vibe or you want to dress them up. They are always comfortable at all times.
The sweetest part is that you can combine them with lovely pants, denim jeans, or skirts. T-shirts may be just simple wardrobe essentials, but you can achieve whatever look you want with a T-shirt. Classy, simple, flamboyant, gorgeous, anyhow you want to look, it is achievable with a T-shirt. It all depends on the type of T-shirt and how you combine it to get that perfect look. In fact, T-shirts are incredibly versatile.
From businesses to sports teams, to parties, casual outings, etc., T-shirts are just awesome and can make a huge fashion statement. You can never have too many T-shirts in your wardrobe. Tees also come in various styles, from baby tees, "tissue" turtlenecks, and varying necklines from crew to boat neck and deep-V. 
Of course, due to the many various designs and brands of T-shirts available, there can be confusion as to which styles and brands make the perfect tees. To save you from this confusion, we have compiled several stylish T-shirts from top-notch brands that will boost your fashion lifestyle. Just scroll down to make your choice of selections.
1
Cute T-shirts You Need Right Now
This women's Reebok t-shirt is simple, clean, and classy for whatever the occasion may be.  It has a small Vector logo on the chest that flashes heritage style. The outfit, which is made of pure cotton, keeps your look tight with its fitted silhouette.
2
Cute T-shirts You Need Right Now
The best part of these t-shirts is that they're made out of wool, so they don't irritate your skin. Not only do you feel good about what you wear, but you feel good when wearing it!
3
Cute T-shirts You Need Right Now
The best thing about this shirt is that it's so lightweight and breathable, which makes it perfect for summer.
4
Cute T-shirts You Need Right Now
A statement piece. The rib knit fabric is super soft and comfortable, while the puff sleeves add a feminine touch.
5
Cute T-shirts You Need Right Now
Featuring a very solid ash color with letter prints on the front, round neck, and short sleeves, this T-shirt is casual and chiic. It is made of 71%-80% Cotton, 20%-29% Spandex. Pair it with your high-waist and canvas shoes to complete the fashion look. The soft fabric keeps you comfortable.
6
Cute T-shirts You Need Right Now
This is a super cute t-shirt that has a fun detail on the shoulder. It has navy blue buttons down short sleeve, and it's subtle enough that you don't feel like you're wearing your grandma's blouse to work.
7
Cute T-shirts You Need Right Now
This is a pink graphic print t-shirt with short sleeves. The shirt is made of 100% cotton, and it has a relaxed fit.
8
Cute T-shirts You Need Right Now
If you like oversized Tees, then this is perfect for you. The line sketch depicting a team of five adorns this oversized tee. Combine it with cargo pants and a cap to complete that hipster look. Don't delay further in getting yours.
9
Cute T-shirts You Need Right Now
This vibrant t-shirt features a striking combination of neon yellow and neon green, perfect for adding a pop of color to your outfit. The slim fit accentuates your figure, creating a flattering silhouette. Plus the cropped length adds a modern touch.
10
Cute T-shirts You Need Right Now
The Sandro Tie Dye Cotton T-shirt is the best piece to add to your fall wardrobe. The colors are vibrant, and this soft cotton shirt will keep you feeling cool all season long.
11
Cute T-shirts You Need Right Now
This lightweight long sleeve shirt is the perfect layering piece for those days when the temperature isn't cooperating. Plus, it comes in a wide range of colors so you're bound to find one that matches your style.
12
Cute T-shirts You Need Right Now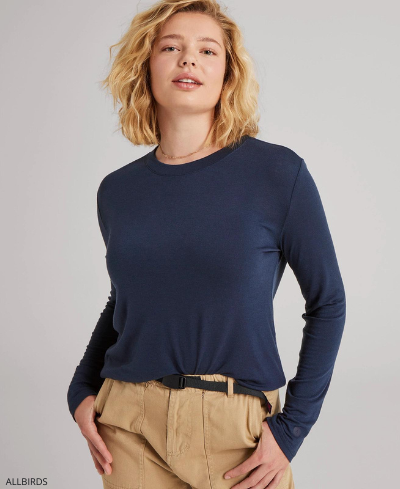 Allbirds Long Sleeve Sea Tee
Lady's round neck Tee is soft, breezy, and good for a relaxed everyday style.