Temi is clearly radiating pure bliss as captured in her recent series of Instagram posts. Her captivating photos taken on the seashore of Okun-Agaja Beach in Lagos has not only blown up her comment section but also left an indelible mark in the fashion world.
Before the remarkable photo shoot, Temi is seen pampering her face with the sub-zero De-puffing eye mask, with a question directed to her fans about an updated skincare routine. Shortly afterward, she steps out in a Dries Ven Noten satin wide-leg pants paired with a black crop top and a Alaia Mina black bag which completes the ensemble perfectly.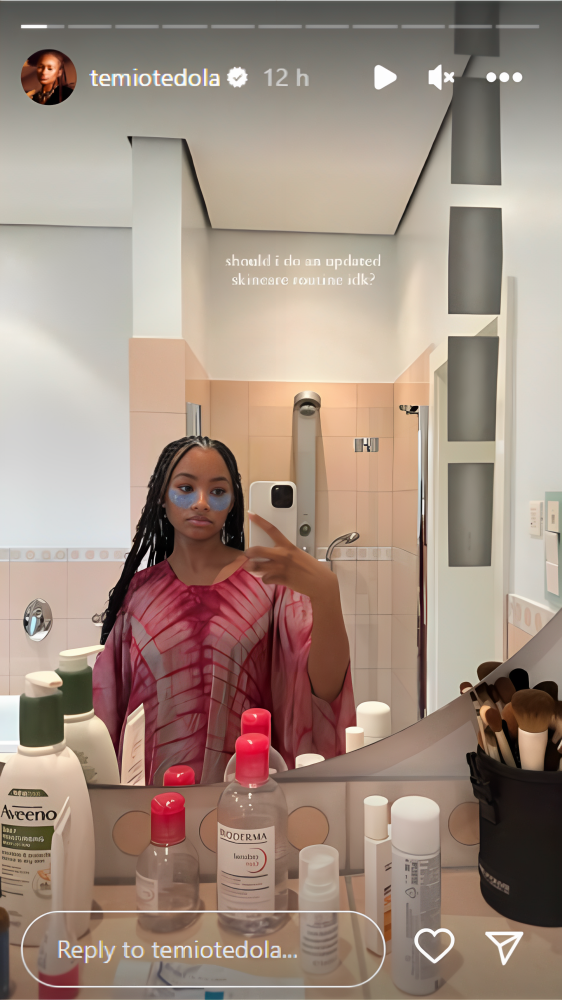 The serene calmness of the beach is palpable through the photos and how Temi went from a palazzo to a bikini is mind-boggling.
She took us to cowrie heaven with her first cowrie outfit by Lafalaise Dion. The cowrie pieces were mesmerizing and the eye-catching white bikini underneath played with the balance of modesty and seduction. The seashore in the background, the sand, her flawless skin, and that ensemble nailed the African royalty look.
Temi later switched up her look, changing into a white cowl neck gown with a thigh-high roached slit. Never one to skimp on accessories, the regal cowrie master piece covered her braided hair gracefully. Like a crown of opulence, it added a touch of mystique to her overall appearance.
If "I'm not done yet" was a person, it would be Temi. She ferociously decided to restrict our airflow with the last outfit as she stepped out embodying Fruche's masterpiece from the see finish collection. The intricate arrangement of the cowries gave way to a captivating attire creating a shimmering mosaic that emphasized her flawless physique.
Talk about slaying in seashells at the seashore.