Stephanie Coker, a Nigerian on-air personality and renowned fashionista, has once again proven that she can slay in anything she wears. In this case, she decided to turn our heads in a beautiful dress from Imad Eduso's SS24 collection. Imad Eduso is a Lagos-based premium fashion brand focused on creating functional, vibrant, and versatile occasion wear pieces for the modern woman. Stepahanie's silk dress was a remarkable masterpiece, as she showed up at Imad's Lagos fashion week dinner, and needless to say, she looked absolutely stunning!
Stephanie Coker's silk dress designed by Imad Eduso is one spectacular piece, looking like a shirt and a skirt, the perfectly sewn dress is a burst of elegance and charm. The vibrant green color is breathtaking and I really can't get enough. The silk short dress featured classy long sleeves, with an admirable stylish collar. The beautiful feathers attached to the lower part and the lower section of the long sleeves gave it an impeccable finish; If stunning was a dress, it would be this particular one!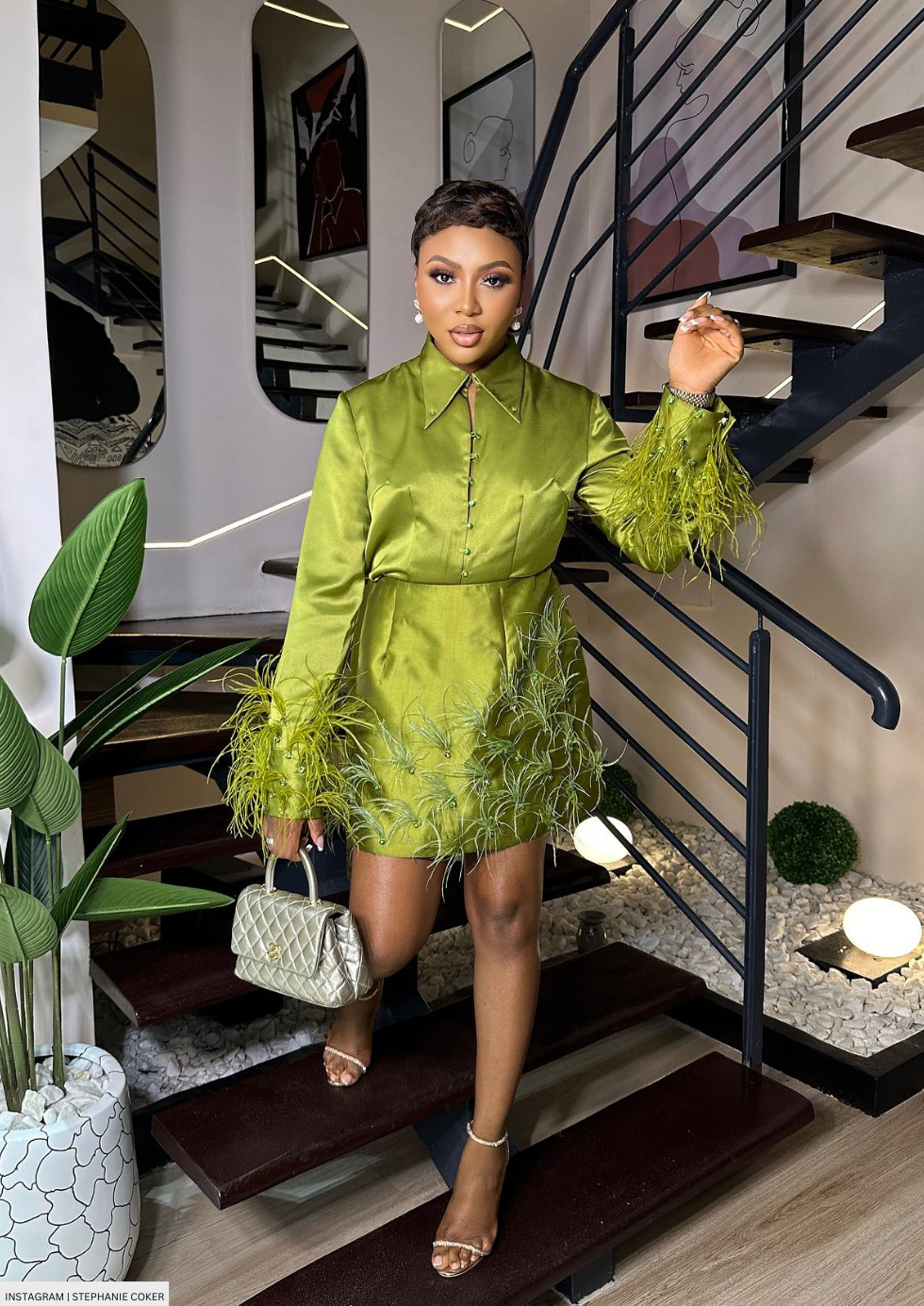 Stephanie Coker's silk dress is set apart by its innovative design, the dart manipulation on the dress took it from a 10 to a 100! The creative fusion of the dress makes it truly outstanding, And the thread buttons coupled with the duchess silk material are everything and more. To complete the look, Stephanie paired the dress with gold heels and a matching gold-colored leather bag. To further pepper us, are chiic short brown hair with her gold pearl earrings added a final touch of beautiful elegance to her overall get-up.
I repeat; If stunning was a dress, it would be this particular one!