We may earn commission from links on this page, but we only recommend products we love.
Linda Ikeji, a renowned Nigerian blogger and media entrepreneur, is not only known for her exceptional writing skills and successful career but also for her fabulous fashion sense. Over the years, Linda Ikeji's style has set trends and turned heads, continuously serving and showing us that being tall is not a flaw but a very big asset. Linda Ikeji's style is the definition of chiic, elegant, and sophisticated. She is often seen in stunning dresses, tailored suits, and stylish shoes that just seem to match her ensemble perfectly. From pleated dresses to shiny wear and everything in between, she effortlessly mixes and matches her elements to create captivating outfits. Here are some of Linda Ikeji's gorgeous style moments!!
1
Lace Midi Dress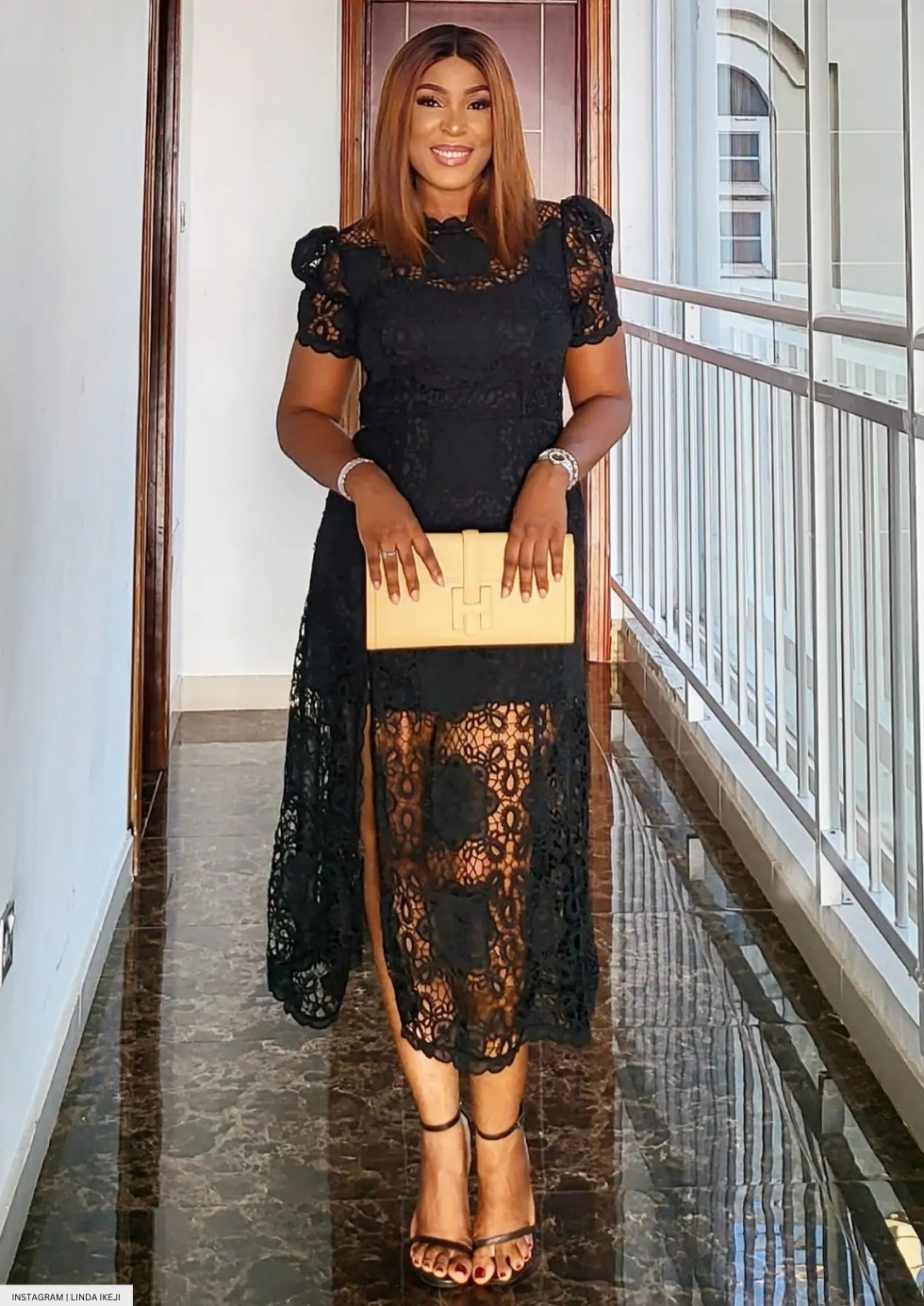 Linda looks stunning in this black lace midi dress by Alice McCall. Her Hermes Leather Curry bag is another ensemble worthy of note!! It's all shades of Elegance in here and just so you know, this midi dress is perfect for any event.
2
Side Ruffle Mini Dress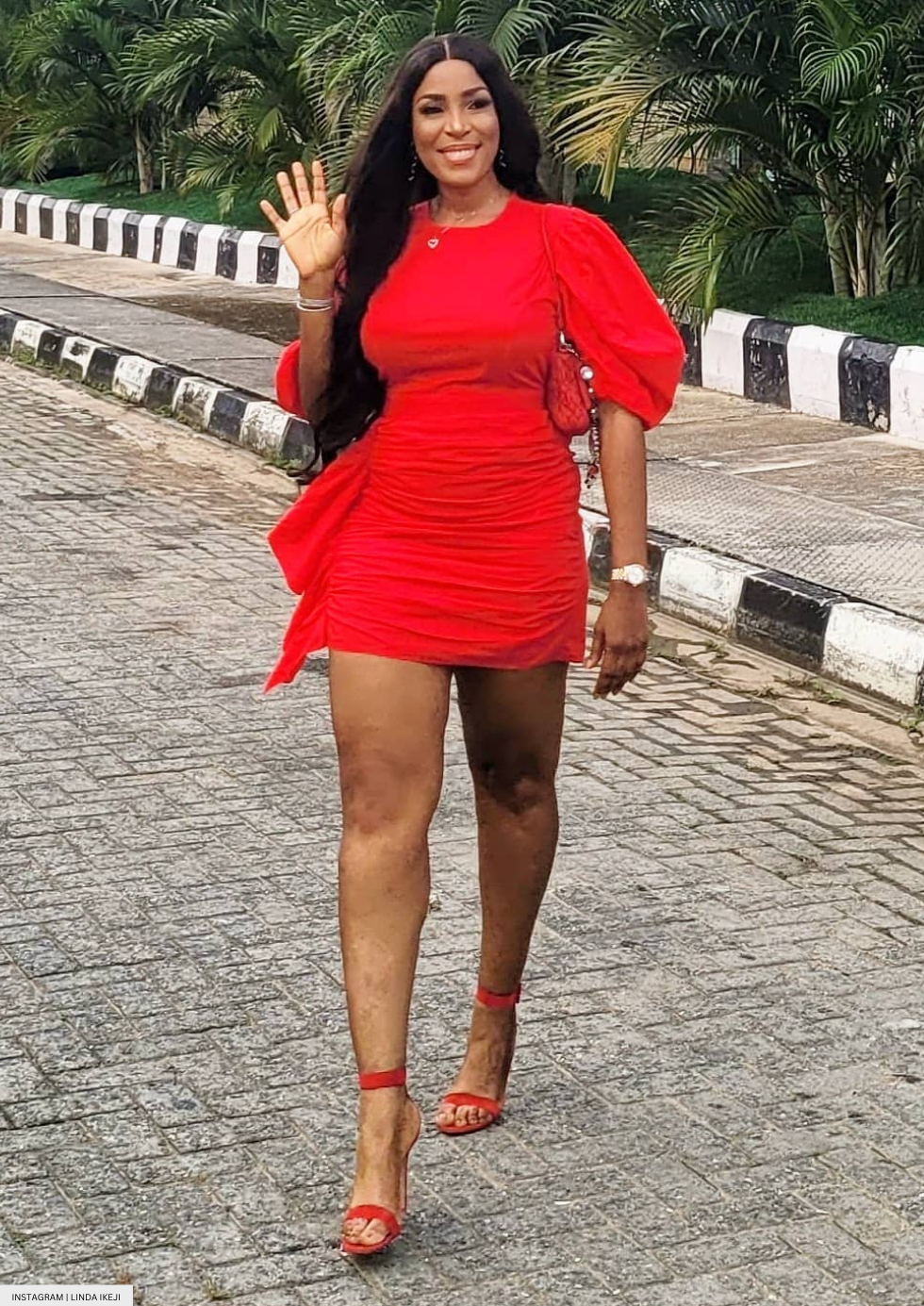 Linda decided to take off the shyness and wear some red, and we are loving it! Her red side ruffle mini dress and her red heels and bag to match is a spread-out statement! Hmmm, let me guess; Bold, boujee, sexy!! This is super duper for a night out with the girls, just make sure it's not winter season.
3
Stripe Jumpsuit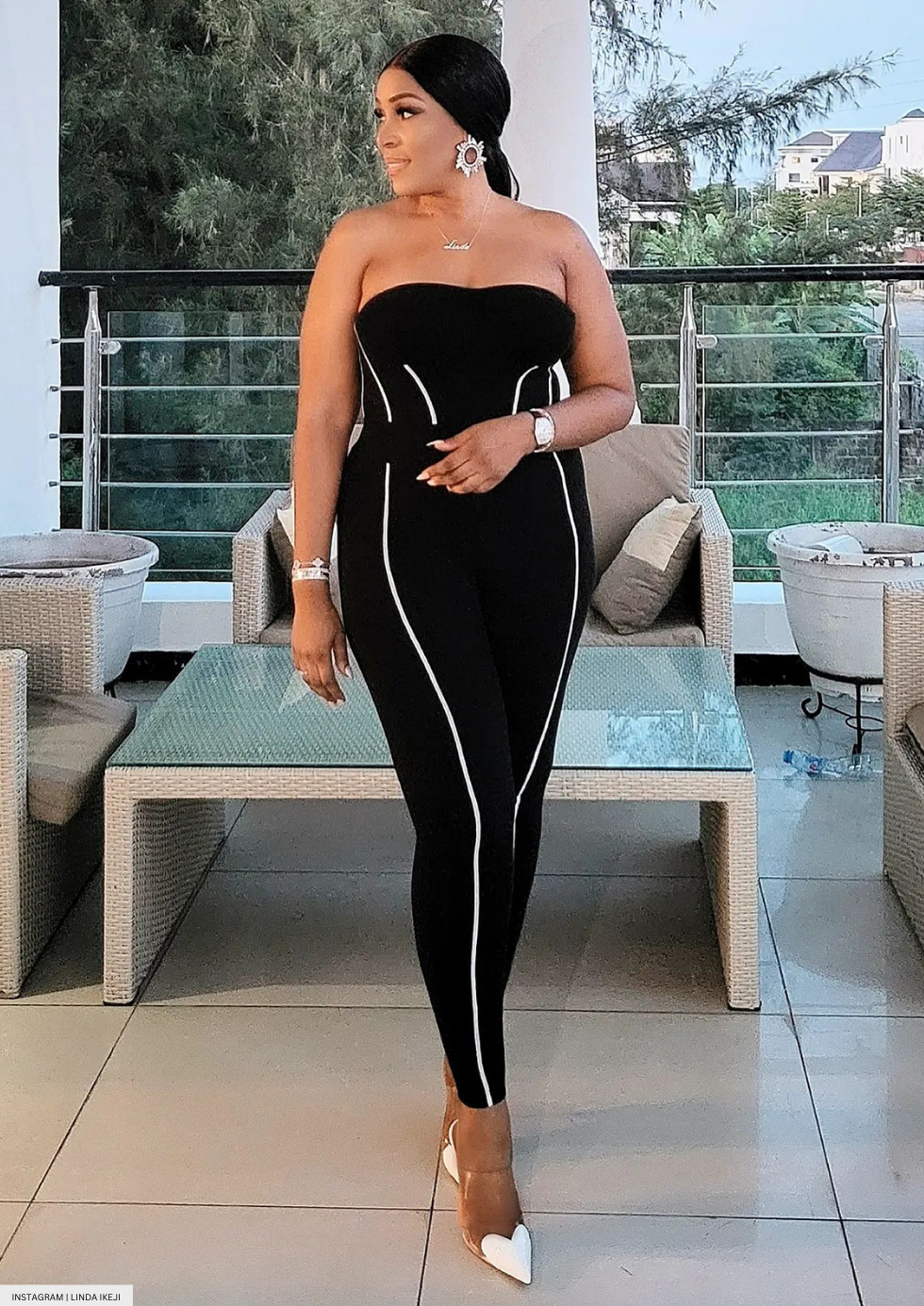 I can't even choose a favorite. Her stripe jumpsuit in black and her pointed stiletto heels with that beautiful heart are just stars! And these two stars co-exist perfectly on Linda's gorgeous body. This stretchy jumpsuit can also be worn for a sports event with a striking pair of sneakers. Sporty and fancy in one clothing!!
4
Balmain T-shirt Reverse Ripped Jeans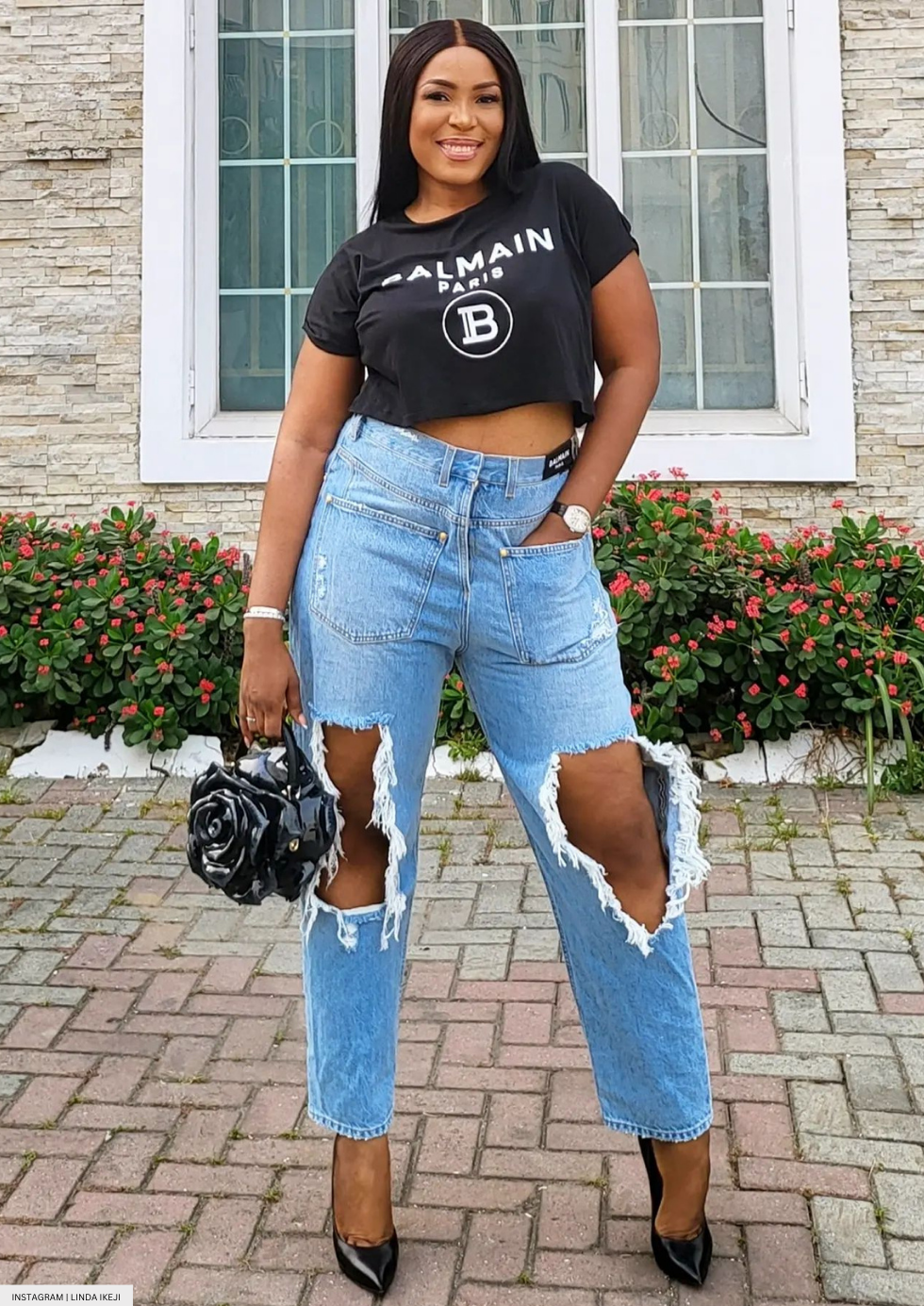 Her Balmain reverse ripped Jeans coupled with that Balmain T-shirt and her Black rose-design handbag is nothing short of a spectacular sight!! Yes, the idea of wearing jeans in the hot summer is awful, but loose ripped Jeans with a crop T-shirt is an amazing way to rock your jeans when the weather is a little humid.
5
Belted Denim Jumpsuit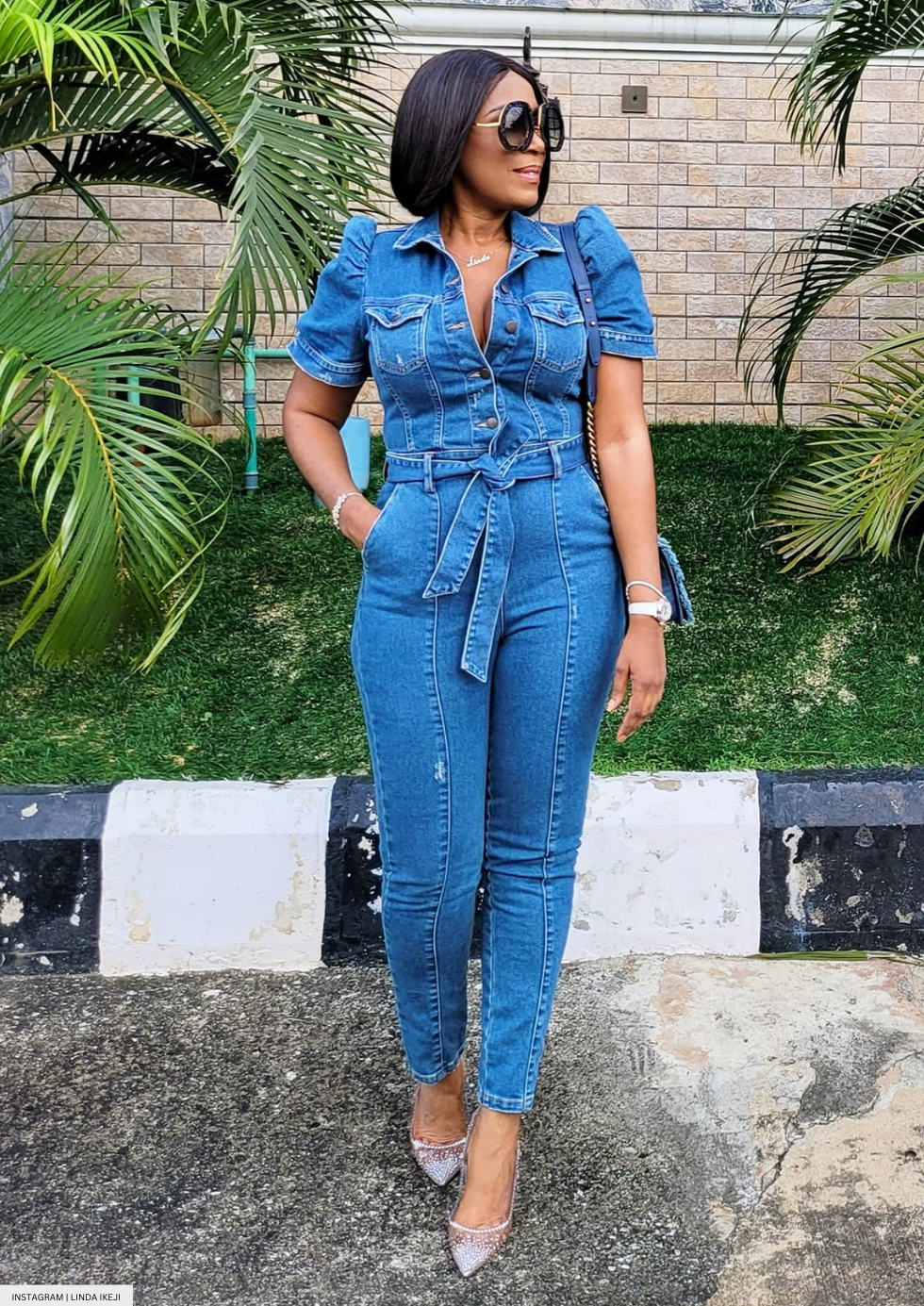 Linda constantly reminds us without saying a word, that the real proof of an elegant woman is what is on her feet. Her Christian Louboutin heels and her belted denim jumpsuit is one fashion match that I stan!! These heels perfectly elevate the Denim jumpsuit, giving it that touch of formality.
6
Royal Blue Blazer And White Pants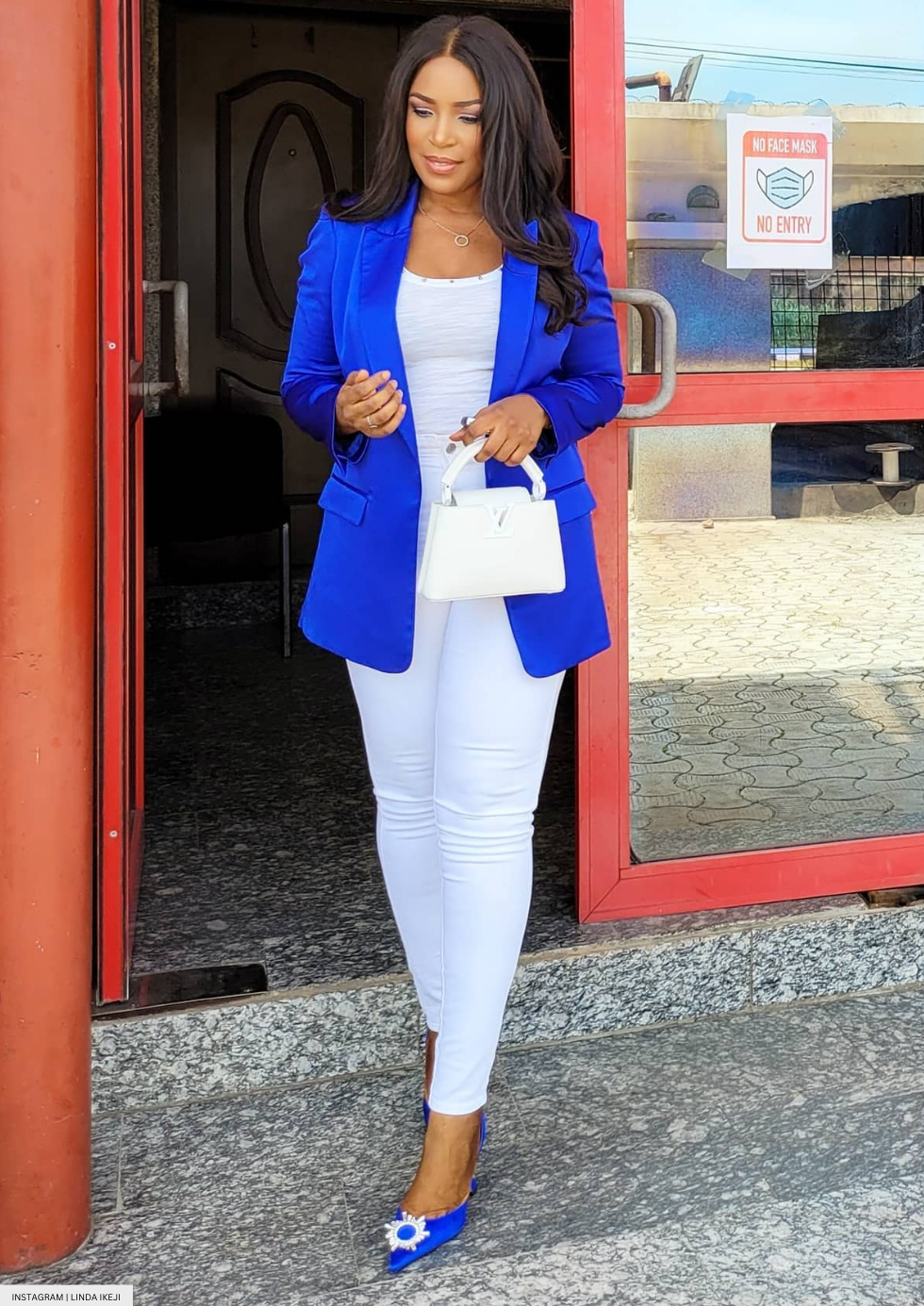 I need to see Linda's Shoe rack. These blue satin heels are the royal icing on the cake as they match perfectly with her royal blue blazer. The white pants and white inner coupled with her white bag gorgeously add that rich, classy, and neat look. And that gorgeous necklace conclusively ties the whole outfit together. This classy and timeless look is foolproof and will always make a good impression while networking.
7
Flare Leg Pants and Oversized Shirt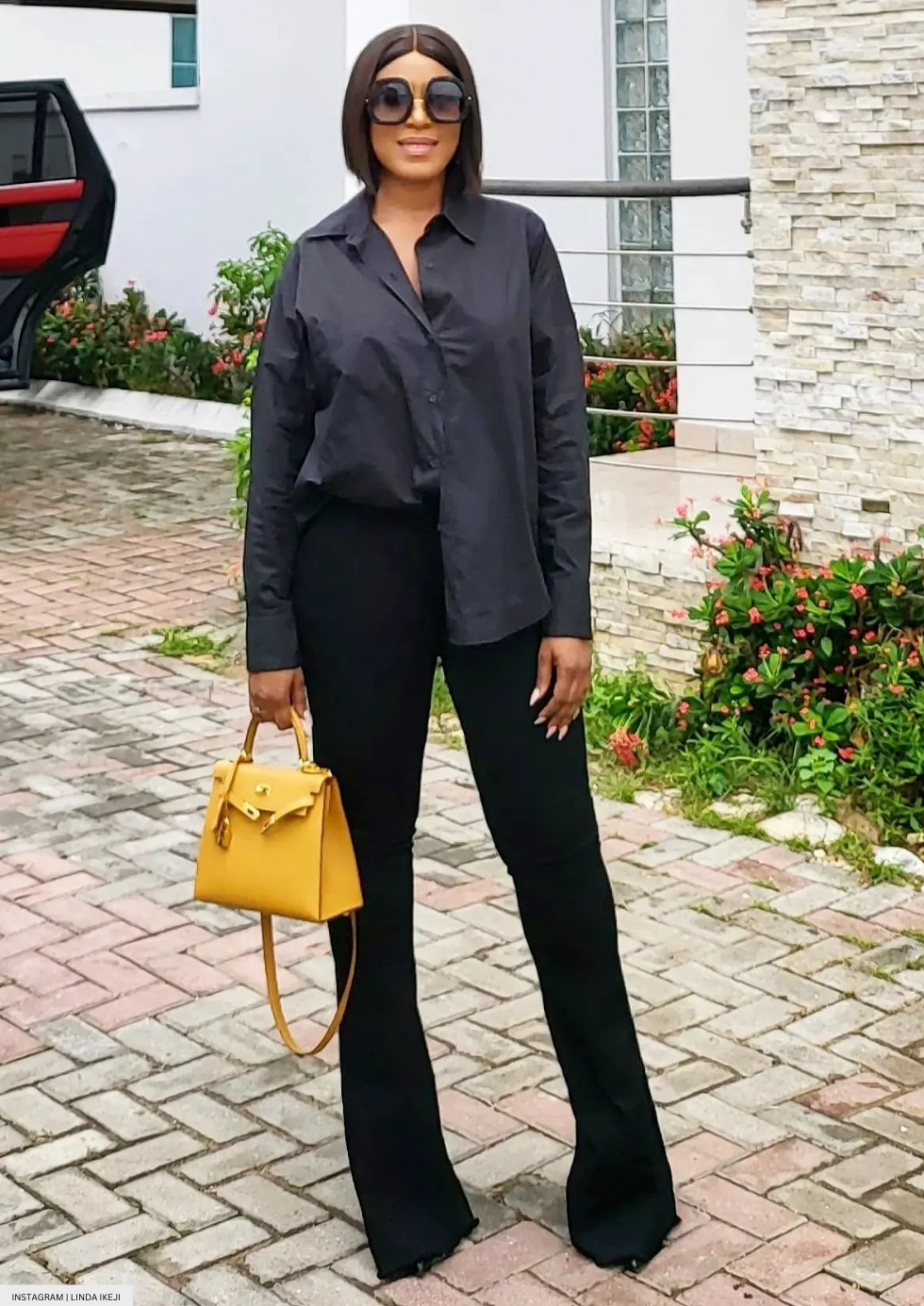 Her black Flare leg pants and her black long-sleeved shirt styled in that mesmerizing manner are accelerating my heartbeat. Adding a touch of yellow in the form of her bag is one brilliant idea that provides her look with the edginess it needs.
8
Sexy Mini Leather Skirt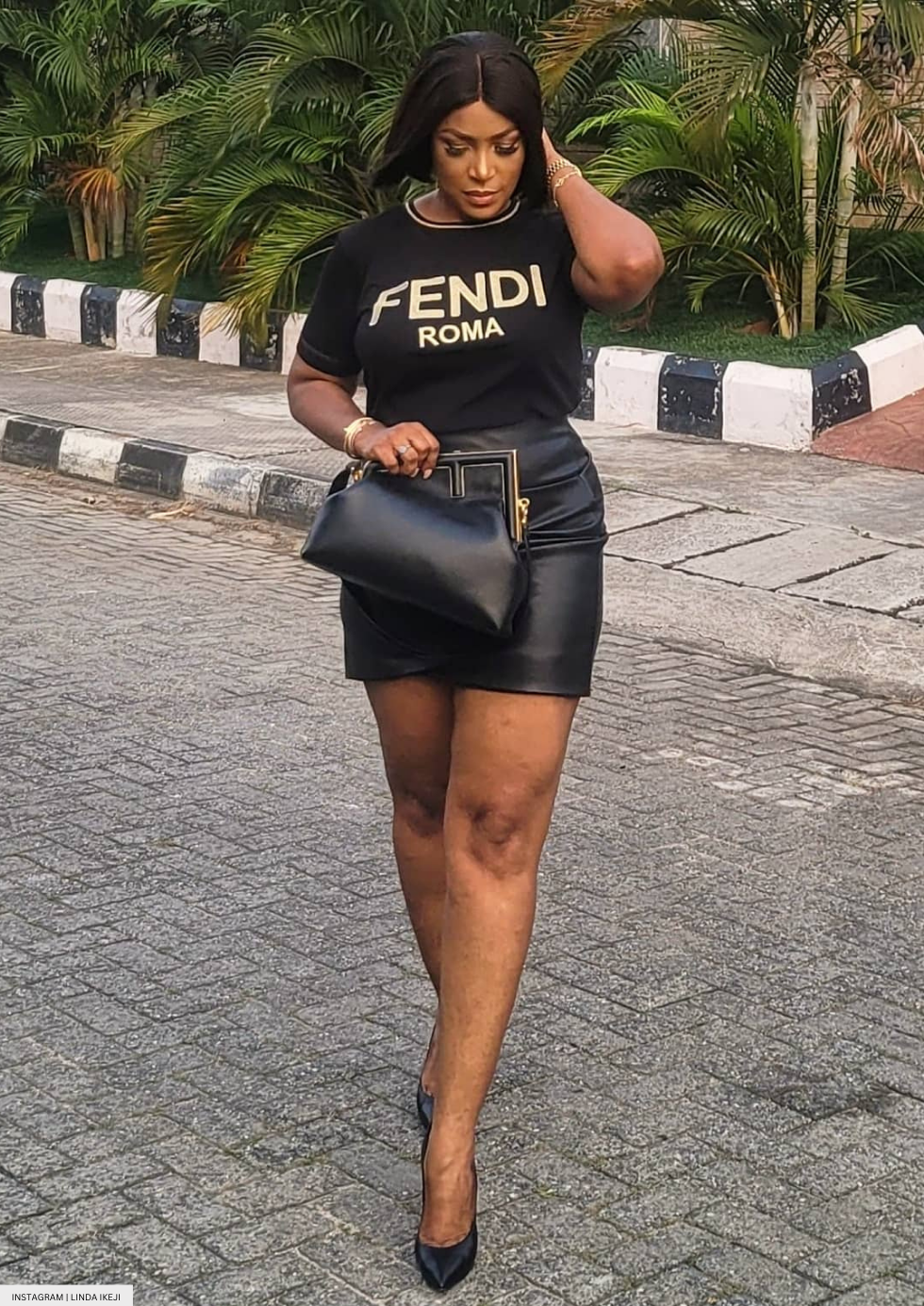 She went Red on red, now it's Black on black and it's still sexy-gorgeous. A black mini leather skirt, a Fendi T-shirt, and a black Fendi leather bag; If this is not a definition of Rich and classy, then there is a problem; And did you know that leather clothing fares just as well in the summer as it does in the winter? I repeat, wardrobe essential!!
9
Lace Mini Dress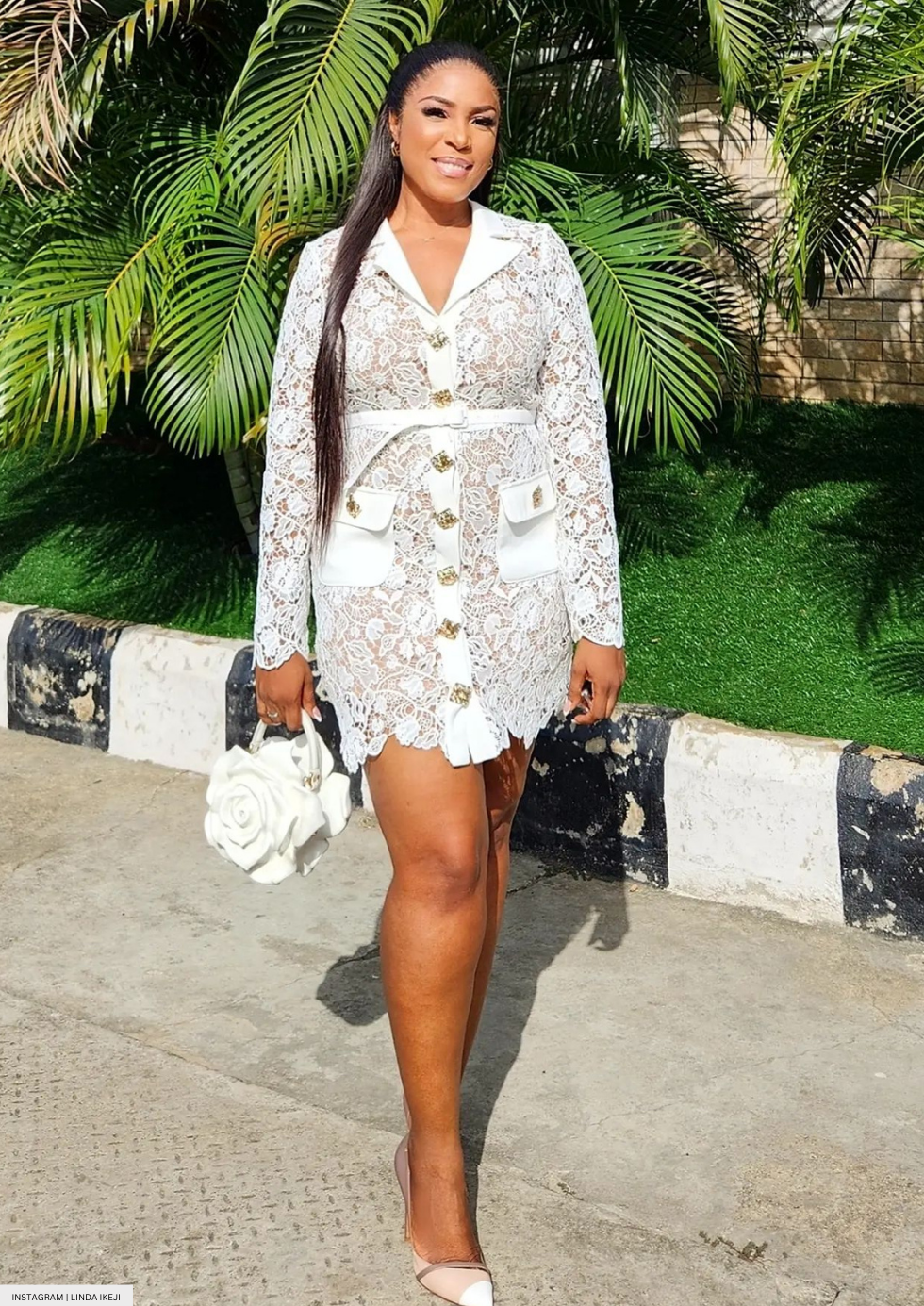 Linda's peak-lapel lace mini dress is the crème de la crème of this list. Braced with her rose-design white bag and her stiletto heels, this is one beautiful masterpiece suited for a perfect closure!
10
Simple Pleated Batwing Sleeve Dress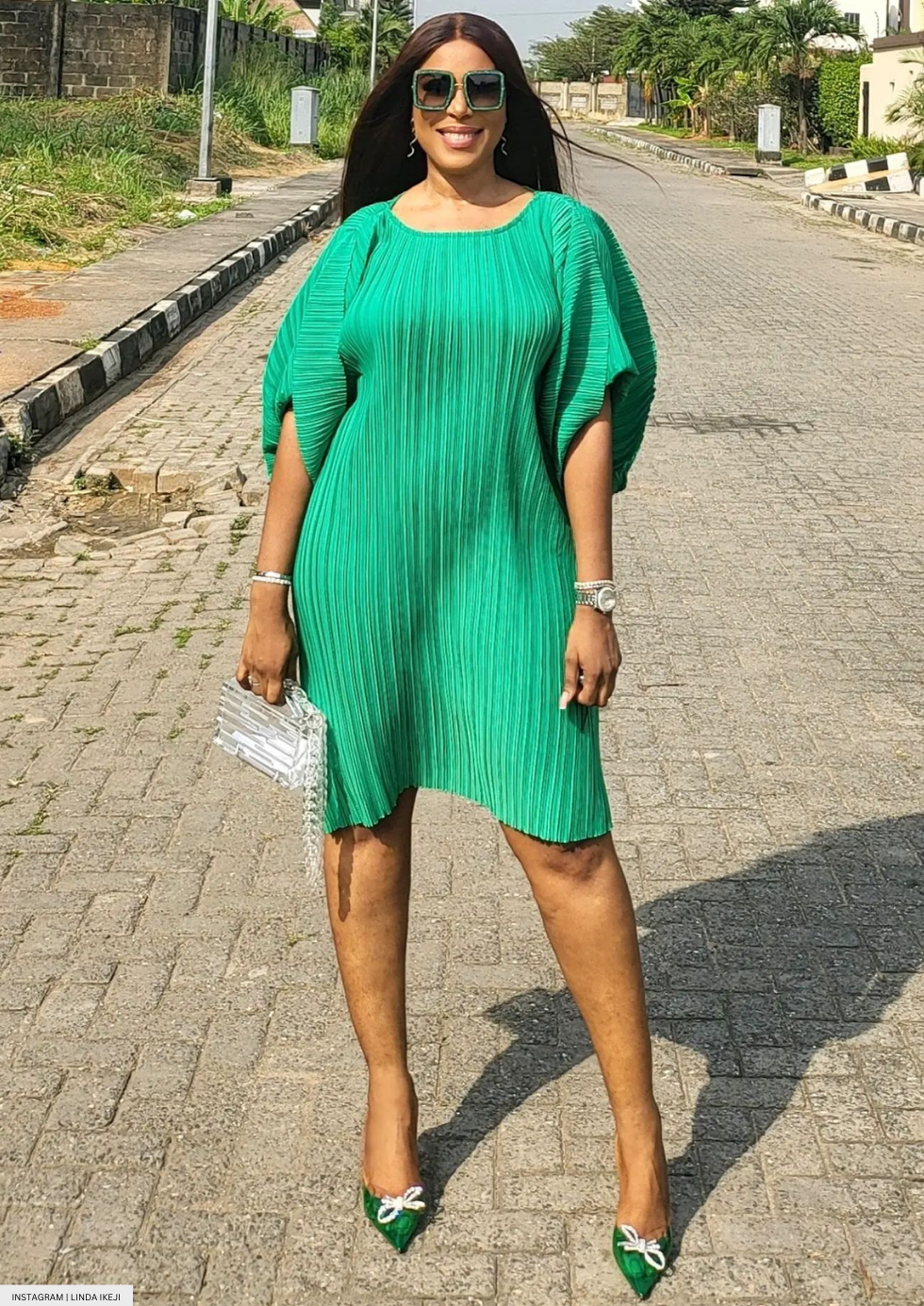 This pleated batwing sleeve dress is simple and classy and the way she paired it with a deeper shade of green is just awe-mazing. The silver star design on her shoe matching her bag and her hand accessories is the jaw-breaking part of the whole look. Let's not forget the green shades coupled with her long hair, this duo perfectly introduces us to her silver-spiraling earrings.
11
Floral Mini Dress
I wonder how many colors of this bag Linda has; Her floral patterned dress and her sky blue heels, perfectly syncing with her blue bag solidifies her position as a fashion icon. A perfect Summer dress, if you ask me.
12
Sparkle Glamour Dress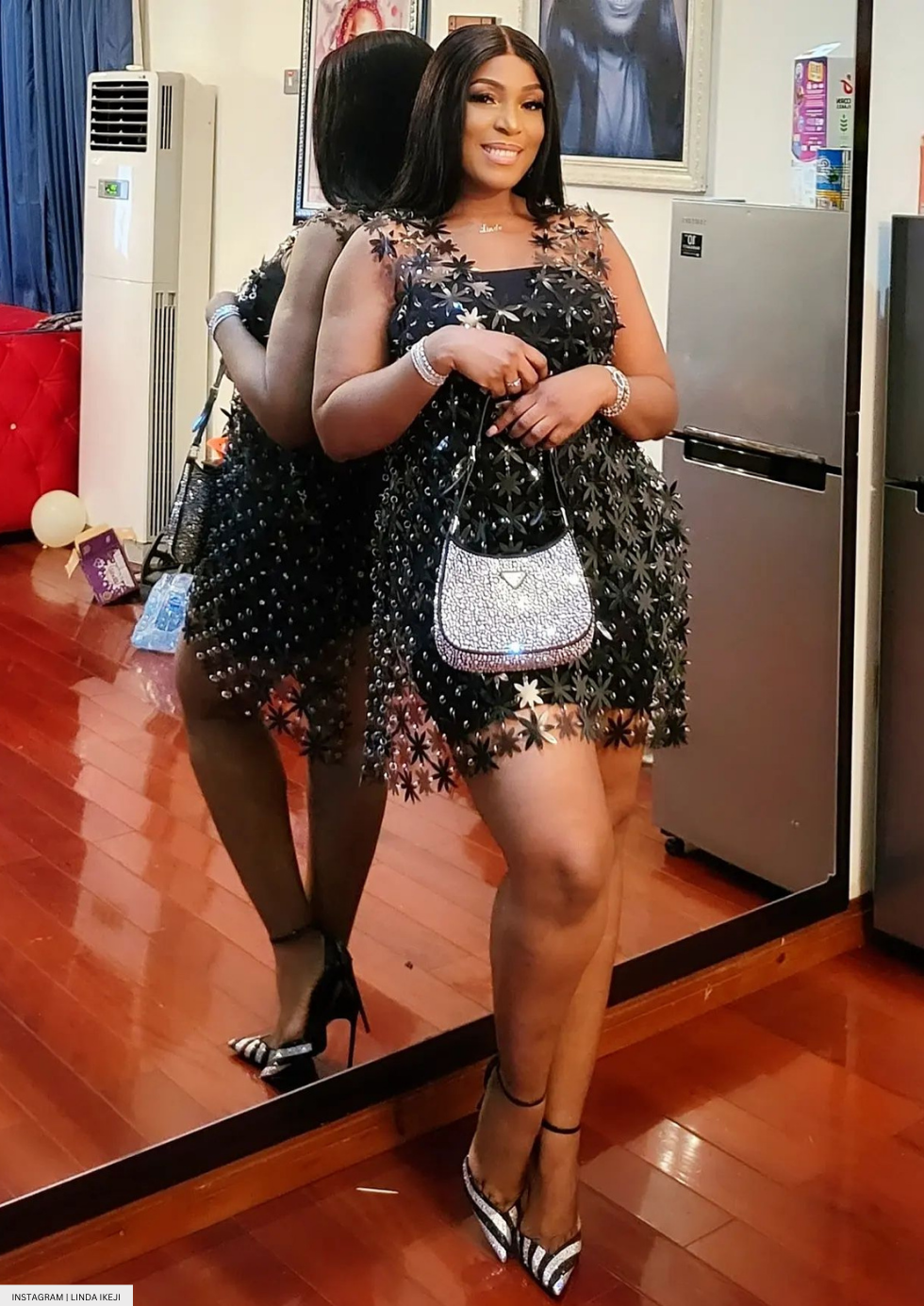 What in the fashion world is this sparkle-glamour? This outfit is giving "mummy goes to dinner" and at the same time putting down that fashion-forward statement. From the star-infused gown to the shiny Prada bag, down to her Saint Laurent heels saturated in sparkles and bold graphics, Linda's choice is daringly impeccable!